Completed Projects Carried Out During 1994 to 2003

Project Green Kathmandu:
Project Green Kathmandu (green garden and parks, green belt construction). SEF is the first organization to start "Green movement" in capital city Kathmandu. SEF has constructed two beautiful parks with marble statues in front of International Convention Center for 11th SAARC Summit. Beside these SEF has a constructed 6 more parks and 10 greenbelts in Kathmandu from Bhadrakali to Tribhuvan International Airport Route. Under these projects different varieties of indigenous trees and flowering plants were planted in different locations of Kathmandu. SEF has been carrying out Project Green Kathmandu with the funding from local sponsors.
---
Best Industry Award for Environmental Concern Campaign:
In 1998, with the motive to create environmental awareness and encourage to mitigate industrial pollution among industrial sectors, SEF created and provided Best Industry Award for Environmental Concern. The provision of award resulted in implementation of Environment Preservation Methods while running industry. This activity was carried out with SEF's own resources.
---
Interschool Art and Essay Competition:
With the views to create environmental awareness among the students, SEF launched Interschool Art and Essay Competition on the theme "Polluted Kathmandu" . This activity was carried out in 1996 with SEF's own internal funding.
---
Documentary Show on Solid Waste Problem:
3 Day documentary show to school children on the theme "Are We Conscious of the Environment Preservation". Prepared showed by SEF to create awareness on solid waste problem in Nepal. It is also an activity carried out with SEF's own fund.
---
Campaign Against Use of Plastic Bags:
Campaign against "use of Plastic bags" with logo "Keep the city clean, avoid plastic bags" conducted in all departmental shops of Kathmandu. This project was carried out jointly with SEF and Kathmandu Metropolitan City.
---
Save Chitwan Campaign:
Under the "Save Chitwan Campaign" carried out keeping in the view to preserve the beautiful natural sites of Chitwan, SEF did the survey on industrialization, rapid urbanization in Bharatpur, Chitwan area noting the river pollution in Narayani River possible environment degrasation in "Beesh Hazari Taal" in Chitwan. In this regard, SEF prepared and submitted a memorandum to Prime Minister Surya Bhadur Thapa demanding instant Land-use planning in the region and need of landfill site, and control on the industry pollution in River Narayani. This activity was carried out with SEF's internal funding alone.
---
Pilot Solid waste Management Project:
Pilot Solid Waste Management Project was carried out with the theme: "Boost for composting". SEF launched the project by involving housewives to encourage them for making composting out of the kitchen and garden waste in Garirdhara area, Kathmandu. This project was carried out with Royal Danish Grant.
---
Case Study on Air Pollution and Its Impact on Health:
SEF prepared a case study, which was first of its kind on the theme "Air pollution and its impact on health" especially in children by visiting all the pediatrician clinics and hospitals for data collection. Carried out with SEF's internal fund, the case study was named Green Book, which was released on 1998 by then Environment Minister Purna Bahadur Khadaka on June 5th to celebrate the world environment day. Copies of green book were handed over to Environment and Health Minister.
---
World Environment Day Celebration: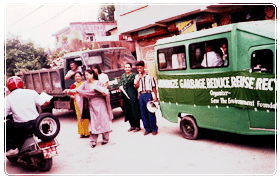 In order to create awareness on Air pollution, on every Environment Day SEF distributes pamphlets to vehicle owner with information on different type of vehicular emissions and its impact to health. SEF has been carrying out the World Environment Day on its own.
SEF members distributing WED brochure to passersby
---
Case Study on Hospital Waste Management:
SEF prepared a case study on Hospital Waste Management by visiting health institutions such as hospitals, nursing homes, labs in Kathmandu, Patan Bhaktapur, Pokhara and Bharatpur. Finding of case study which was a disaster, was later handed over to Ministry of Health. SEF demanded instant formulation of rules and regulations on proper hospital waste management focusing on controlled incinerators and strict rules to health institutions for sorting and managing the hazardous waste. This project was carried out during 2000-2001 with grant from USAEP.

SEF implemented SMP in Bir Hospital as a pilot project. SEF provided needle/ syringe terminatoe machine. Objective of the project is to dispose the used needles at a point of generation which will control infection diseases while handling such used sharp objects. This project was carried out during 2002-2003 with grant from Clear Gilchrist Foundation.
---
Creation of Bhadrakali Teenkune Green Garden:
SEF created Bhadrakali Teenkune Green Garden, located at the heart of Kathmandu. SEF implemented the project by raising funds to construct the Bhadrakali Teenkune Green Park. Beautiful fountains along with colorful lights were installed in front of the garden. Green plants and flower beds along with colorful chautari were constructed. Statues of his Majesty Late King Prithib Bir Bikram Shah Dev was maintained. SEF has been working in collaboration with Kathmandu Metropolitan City and Nepal Army for maintaining this garden.
---
Renovation of Historic Statues: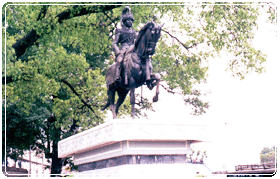 Carried out with support from Rana families, the historic Rana statues were renovated and beautiful gardens with lights were constructed at six corners of Tundhikhel and Army Headquarters.
SEF renovated former Rana Prime Minister's historic statue.
---
Plantation of Gikgo Biloba: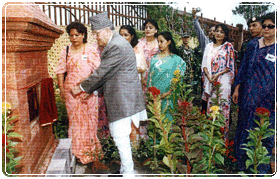 Under the PROJECT GREEN KATHMANDU, SEF jointly with Love Green Nepal, planted around 300 Ginkgo biloba trees in inner boundary of Tundikhel and Nepal Army Headquarters premises on 8th July 2003.
Former Prime Minister Mr. Surya Bahadur Thapa inaugurating Ginkgo biloba plantation at Tundikhel.
---
Study of Infestation of Mikania Micrantha:
SEF has been engaged in study of infestation of invasive wild climber Mikania micrantha in Chitwan National Park and Mukundpur VDC of Nawalparasi district.